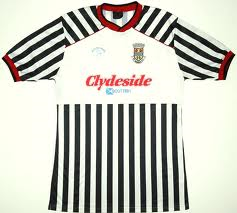 Posts

262

Joined

Last visited
Jimmy H's Achievements

Reserve team regular (6/14)
362
Reputation
Jeezo, you're in NY, shouldn't you be enjoying that amazing city instead of watching the Buds. Bet your missus is delighted.

I'm going to book flights to come back for the funeral mate, hopefully you can make it so we can have a beer or 10 ❤️

I discussed this with him many times. I remember the day after we won the league cup in 2013 the whole Saints team were still celebrating and were all in Cafe Borgia on a Monday afternoon, everyone was still partying from the day before and the place was mobbed. HSS I think it was actually you who told me the team were in there when I chatted to you in the Wee Howf ( I think it's the only time I've ever met you ). When we got there John and his staff couldn't cope with the numbers so he asked me to help out behind the bar, I've never worked in a pub in my life and to be honest had never poured a pint either (drank many tho) Soon got the hang of it but had no idea how to work the till, John said to me "f**k it Saints won the cup, just give it away for free" And we did, it was basically a free bar till he ran out of stock, must have others on here who were there that afternoon.

Devastated to hear about John. We grew up together at Woodneuk Court Millarston, we did our first ever holiday abroad together, an 18-30 trip to Corfu. I hope the c"nt who ripped off his business when he was ill rots in hell. RIP my friend ❤️

Wine Warehouse in St Ouens sell EL D. Apparently 👀

One boozer I do remember is the Fulbar inn as Portmahomack Saint will remember well.

Oh, you can see we're just ignoring each other and on our phones. 😂

Thanks Gents, it's amazing the amount of pish you start reminiscing about when sat on the lash in random Bournemouth pubs.

Wasn't that one mate, the one we're thinking of was if you drive up the hill on Well St to the traffic lights, there was a pub straight in front of you opposite side of the road, it's probably been closed down for years.

Here's a scenario, next round of fixtures, 5 home wins on the Saturday ( certainly possible ) and we'd be 2 points clear in FOURTH place going into the last 2 fixtures before the split.

Apologies if this is a bit off topic, but Can anyone settle an argument please. What was the name of the Indian restaurant upstairs from Minstros pub in New St, would have been there most of the 80's ( opposite The Bull)

Yeah good point, so that'll probably mean the bottom six will be unbalanced as well.

Apologies I think I've got it wrong as we've played Hibs at home twice, assuming we finish top 6 after the split it will be Rangers and Aberdeen at home, with Celtic, Livy and Hibs away.