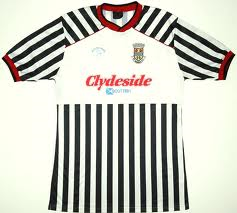 Content Count

241

Joined

Last visited
MenstrieSaint

reacted to a post in a topic:

Your Favourite St Mirren Journeymen

DJ, We did indeed win 3 draw 1 against them in 77/78, but the "Beckett worldly" was a couple of seasons later, November 1980 I think.

whydowebother

reacted to a post in a topic:

Fixtures 2019/20/Dates Transfer window

Fixtures released tomorrow morning now.

Just had a look, still over 400 tickets available for the West Stand.

turrabuddie

reacted to a post in a topic:

St Mirren v Dundee Utd Play Off Second Leg

Am I reading that correctly that my tickets for the home game WONT be posted out to me, or is it the away game only? It's unclear to my simple brain.

Jimmy H

reacted to a post in a topic:

St Mirren v Dundee Utd Play Off Second Leg

I logged on yesterday morning around 0730 and was surprised to see tickets on sale, I just assumed it would go to STH first before the general sale, as we've booked flights and coming over from Jersey I wasn't taking chances and bought 4 together in W4. The site is an utter shambles, you can't put more than one seat in your basket at a time, so have to go back to add to basket, by the time you've done this 4 times at least one of the seats have been sold, so it took several attempts to get 4 together, but by the sounds of it I've been lucky. I've got a silver membership for Arsenal, on their website as soon as you put a purchase in your basket it freezes that seat and you have 7 minutes to make the purchase, so gives you enough time to buy additional seats using other mates memberships so you're all sat together. Works well

des

reacted to a post in a topic:

Best Saints Goal You Have Witnessed

Jimmy H

reacted to a post in a topic:

New signing Left Back Stelios Demetriou

Good luck Stelios, loved the genuine passion he showed for our club.

Gents, haven't really been keeping up to date what's been going on. Can someone give me a quick summary of who has been released, sold or returned to parent clubs during the summer. Thanks in advance.

You really are a total and utter kn0b, always have been, always will be.

It's no coincidence that he reappears when we have potentially something negative happening at our club. Im not a prolific poster on here but certainly check in most days, where's the deluded pipefitter been for the last 18 months when things have been rosy in our garden? For you younger lot on here It's almost 20 years now since he claimed on the old Saints guestbook to know ( from a friend ) all about St Mirrens financial situation and accounts at the Clydesdale bank. Stewart Gilmour lured him to the headmasters office at Love Street and the wee schoolboy Dickson was sent packing. After all these years his bitterness for our club has grown, the man is a fantasist obsessed with St Mirren FC.

Jimmy H

reacted to a post in a topic:

Kenny Pointon

Hopefully there was a good turn out this morning to say goodbye to a great Saints fan and a true gentleman, gutted I couldn't make it, rest in peace my friend x

Fine head of hair you had back then as well

What a great Pic, why the feck is Kenny in a suit lol? And Howard Hughes did your mum get you that shirt for Xmas? Also noticed Harpo on there, whatever happened to the big man? Not seen or heard of him for years.